What Causes Cranial Asymmetry?
Cranial asymmetry is more common today in infants than ever before. The American Academy of Pediatrics installed the "Back to Sleep" program in 1992, urging parents to lay their babies on their backs to sleep. This has since lowered the rate of SIDS (Sudden Infant Death Syndrome) by 40%. But, combined with rigid baby carriers that double as car seats often used during daytime hours to hold and carry young babies, this has increased the amount of Plagiocephaly, Brachycephaly, and Scaphocephaly seen in infants today.
Our cranial remodeling program is for children who are 3- 18 months old and we treat the following cranial shapes:
Plagiocephaly
A flattening on one side of the head
Brachycephaly
A flattening across the back of the head

Asymmetrical Brachycephaly
A combination of plagiocephaly and brachycephaly

Scaphocephaly
A long, narrow head shape
The Achilles Difference
Achilles has successfully provided over a thousand cranial helmets for our patients giving the children a lifetime of symmetrical head shape. We have scanners at each of our 4 locations so that your child may be cared for conveniently and near where you live.
At Achilles, we evaluate your child's head shape using the latest advanced FDA-approved, state-of-the-art light scanner. The eye-safe lights allows us to safely and painlessly scan your child's head in a matter of seconds. The scanner provides detailed 3 dimensional data that helps us determine the best approach to treatment. It is also used to document changes in the shape of a child's head over the course of their specific treatment plan. During the scan our orthotist will go over the scan and measurements with you.
Cranial Remolding Helmet
Once the scans are evaluated and it is determined that there is asymmetrical head shape, a personal treatment plan will be established.  Within two weeks of the initial scan your child will be fitted with a Cranial Remolding Orthotic Helmet.
The Cranial Remolding Orthosis (aka Helmet) is often a parent's greatest concern. Achilles Prosthetics & Orthotics uses STARbrand cranial remolding helmets which is the leader in cranial orthosis. Each and every helmet is specifically custom made to the shape of your child's head and individual treatment plan.
Treatment
No more than two weeks after the initial scan, your child will have his/her first fitting with the helmet. Follow-up visits will be scheduled for the entirety of your child's cranial remodeling treatment. During these visits, follow up scans will be taken to track the progress of your child's treatment (we also provide you with copies for your baby book!). Adjustments will be made to the helmet to help maintain progress at these follow up visits as well. Treatment time for most babies lasts between 3-6 months.
 
Cranial Remolding Helmet Care
Parent FAQ's
I'm still worried about the scan. Is there radiation involved?
The scan does not use radiation like an X-ray might. The scan is generated with the use of blinking LED lights which accurately measures your child's head shape. The scan is FDA approved for the scanning of infants and children and is also fully approved and integrated with the OrthoAmerica STARbrand Cranial Remolding Orthosis program.
 
What if my child moves during the scan or becomes fussy?
Our FDA approved light scanner is able to scan with your child moving. Parents are able to even hold their child during the scan if need be. Additionally, you will be able to watch the scan on the computer or big screen monitor inside the patient room.
 
Will the scan or helmet hurt?
The quick answer is NO. The treatment is PAIN FREE.
 
Does the helmet squeeze my infant's head to re-shape it?
No, the helmet does not add any pressure to your child's head. The helmet is designed to fit snuggly (without pressure) to your child's head while allowing for space in the areas that need it (flat spaces) to grow out and fill in the void within the helmet. The helmet also protects your child from putting any more pressure to the flat spots on their head as they sleep or lay down.
 
How heavy is the helmet?
The helmet is very light: between 6-10ounces
 
What if my child cries and does not want to wear it?
Most infants adapt to wearing the helmet within hours and some within a day or two. If you child is not taking to wearing the helmet after three days please call to make an appointment so that we can assess.
 
Does the helmet need to be cared for?
Yes. We will go through all the cleaning instructions in the office. It is very important to clean the helmet for the health of your child.
 
How long does my infant need to wear their helmet each day?
We highly recommend that they wear their helmet 23 hours a day. The only time you would take off their helmet is for bath time and for cleaning their helmet. The more they wear the helmet the quicker and better the head remolding process will be. If your child does not wear their helmet their head will continue to grow without correction extending treatment time.
 
Will my child look odd with the helmet and will people stare?
Cranial Remolding helmets have become very common for babies. Especially over the past 20 years. Some people might look or ask questions but, this is common. The helmet is a temporary solution for your child's lifetime with a nice symmetrical head shape. Is it common to decorate the helmet? Absolutely, STARbrand offers over 50 different patterns to choose from. But, that is just the beginning! We also work with a few companies that also offer amazing design options for your baby's helmet. There are full licensed NFL, MLB, NBA, NHL, NCAA helmet deigns along with Star Wars Jedi X-wing pilot, R2D2, Harry Potter, Air Force pilot, Wonder Woman, Dr. Suess, and Marvel characters just to name a very small few. Decorating ideas are endless. Ask us and we can assist you with all the options. If you have any further questions please contact us!
Testimonials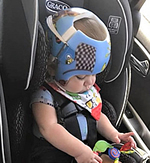 Monique Flemming
"Logan and the entire staff are super amazing! They always made my baby a priority and did an amazing job "fixing his flat!" I love the little certificate they gave when he was done as well! So cute and thought. The entire office Great facility with amazing Doctor and staff."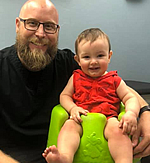 Lia Noel Frye
"3 months to the day!! We have gone from 15mm flat to 2mm flat (stopping only because we keep getting skin irritations)! I was so nervous about starting the helmet process because I was afraid of being judged by everyone. I kept thinking that everyone will say I didn't move him enough, hold him enough, get the right head shaping pillow.. the list goes on. None of that is even close to the truth. For the last 3 months, we have been treated with the kindest care I HAVE EVER RECEIVED. Achilies Prosthetics and Orthotics has treated us so kindly that it has changed the way I felt about our helmet. From answering our after hour calls to getting us in last minute to even almost comping another $3000 helmet because we thought Connor grew out of his after having a boil on the back of his head. I'm forever grateful for everyone in their office being so kind, generous, flexible, and on top of it. This has been a hard journey for momma, dadda, and Connor, but one thing is for sure if we had to do this all over again I will definitely choose to go to Achilies ❤"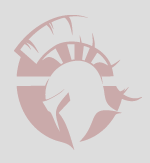 Bree Russell
"10/10 recommend Achilles! We were sent here for our son's helmet needs and they are just so amazing! The entire staff is always friendly!"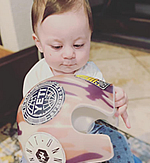 Sarah Morrow-Nguyen
"I cannot speak highly enough of Logan Newton and all the gals at the front desk! Logan was SUCH a pleasure to work with. You can tell he genuinely loves what he does, and cares for each one of his patients. As a first time mom, all of this was quite nerve-wrecking, but Logan from the very first appt eased all my worries. His attention to detail and striving for perfection is unmatched in this field. I would recommend them (and already have)!!"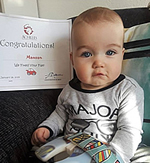 Natalie Lovett
"The staff at Achilles are all very sweet and caring. I was nervous being a new parent and learning my son had to wear a helmet for a few months but they reassured me that it will be okay and the helmet will be off in no time and here we are 2 months later my son's head is perfectly round!"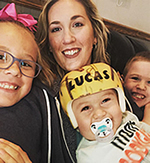 Stephanie Strickland
"Such a wonderful staff and experience! They make you feel welcome every time and feel loved! So thankful for the Bakersfield Staff!"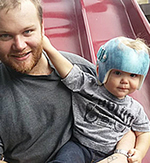 Kristin Searley
"We were so worried when we heard our doctor tell us that our son Charlie should get a cranial remolding helmet for his flat spot. You took care of our nerves in just our first visit! Charlie has not slowed down one bit with his helmet. We never have to worry at the park. LOL."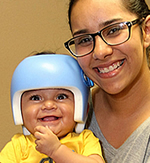 Paulina Bravo
"Thank you so much for taking care of Jayson! He just loved Don and I appreciated all the time and care he provided for us. Your whole staff in Santa Maria are amazing."